We are raising funds! Our goal is $750,000!
The Watershed Conservation Resource Center (WCRC), a 501(c) (3) nonprofit organization, is raising funds to create The River Institute of Northwest Arkansas. Integrating science, design, and the humanities, The River Institute will focus on the ecological restoration of rivers, riparian, wetlands, prairies, and floodplains, and their importance in providing services including water quality, ecosystem health, and quality of life for people who live, work, and enjoy recreation in the region.


Only two miles from downtown Fayetteville, restoration of the 98-acre Dead Horse Mountain (DHM) degraded property that is mostly floodplain and 30% wetlands will be a challenge, but through The River Institute, the DHM property will provide the community the opportunity to directly experience its restoration, natural features, and history. The WCRC teamed with the University of Arkansas Community Design Center (UACDC) and the Arkansas Archeological Survey to integrate riverine ecology with interactive art, design and history. The River Institute can serve as a national model for riverine education and advocacy, while supporting local ecological restoration. The WCRC developed a two-phase approach to help achieve these goals and is seeking funding to implement Phase I.


Phase 1 - WCRC Facilities and Community Training Center
Create WCRC facilities to support ecological restoration, assessment, ongoing monitoring & maintenance, and outreach in the Northwest Arkansas Region:
• A building and grounds that provide office space to support ecological restoration and a training center with indoor and outdoor classrooms:

Grounds would include a butterfly and native plant greenhouse to propagate native plants for stream and wetland restoration projects
The training center will support public short courses on streams, floodplains, wetlands, prairies, and riparian conservation and restoration. It will also offer courses on native plant establishment, invasive plant removal techniques, and stormwater solutions at residents & businesses
• The training center will also serve the community by providing space for local meetings, workshops, and retreats that include the integration of ecology, history and culture.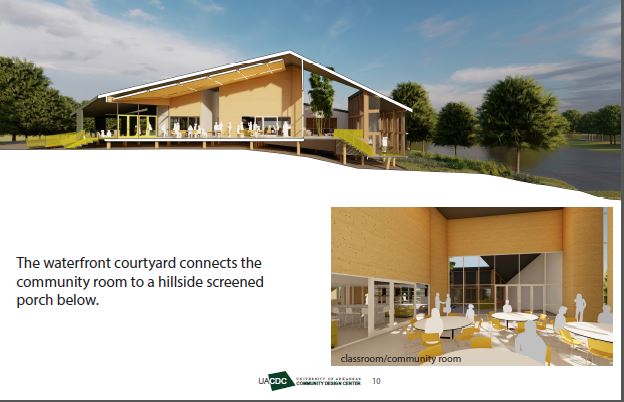 Phase II – Public Access for Riverine Commons 
The River Institute involves creating public access to the 98-acre DHM property on the West Fork White River (WFWR), and it is the perfect location for people to engage in the natural environment. The commons or open space will include:

Public walking trails to natural areas, like wetlands, prairie, & floodplains, for birding, and native plant identification. Connectivity to future intercity water trails
Trail exhibits memorializing Native American riparian life-ways, and the historic Euromerican and African American cultural landscapes that were formative to Fayetteville and its early agriculture
A paddling access to the wetlands and to the WFWR. This will be an excellent canoe/kayak takeout or put-in for people floating the WFWR, at this time, there is no public access areas to the river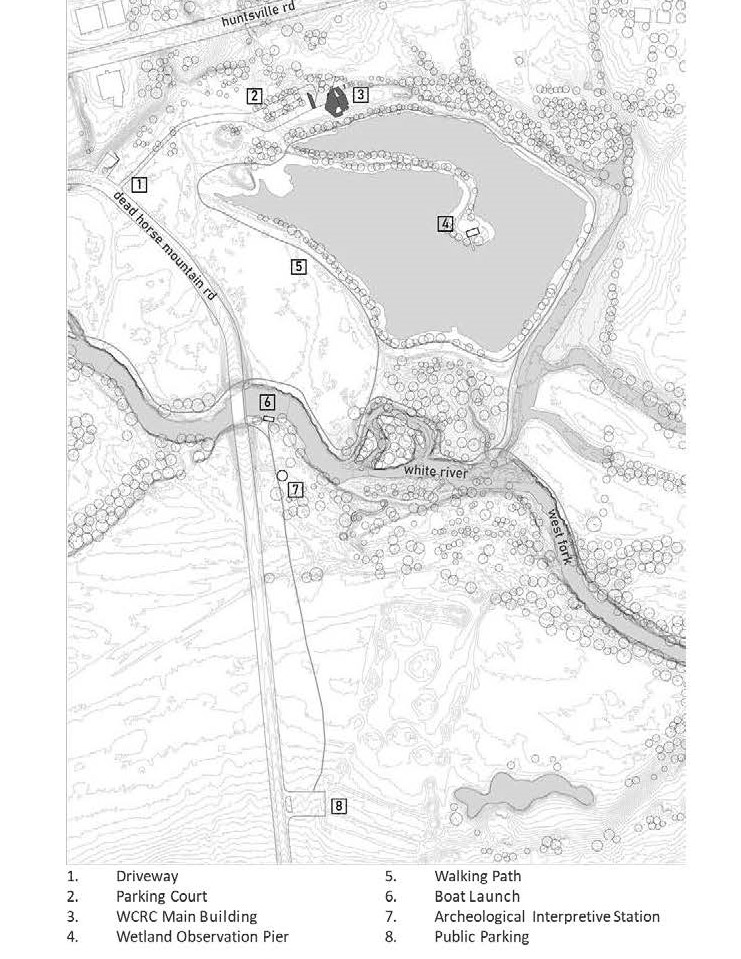 The UACDC was awarded a $25,000 grant from the National Endowment for the Arts to develop the "Public Access Master Plan for Fayetteville Riverine Commons." This site map shows an overview of the site and was developed during the conceptual design described in Phase I.
Thank you for helping us make a difference and believing in our dream for Northwest Arkansas.
For detailed information on The River Institute of Northwest Arkansas, please visit our webpage at
watershedconservation.org - Get Involved
.